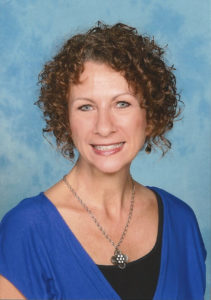 Julie Hammer's artistic interests emerged during her childhood and were encouraged by her mother's creative influence. She pursued her love for art, receiving an art degree in Graphic Design from the University of Kansas in 1983. A few years later, she shifted her emphasis from design to watercolor painting. She has shown her work in a variety of shows and art fairs over the years.
Julie's paintings capture her interest in family life and the beauty of God's creation. Her bright colors, attention to detail and use of scriptures have made her paintings, prints and cards favorites among her growing clientele. Julie specializes in creating custom artwork for clients, especially portraits and home portraits. She primarily paints with watercolor and acrylic, but also works in other media, including pen & ink, pencil, colored pencil, digital art and graphic design. The themes for her work include Floral, Landscape, Still Life, Children, Christmas & Holiday, Collegiate, Scripture, Portraits & Home Portraits. In addition to her own work as an artist, Julie also teaches art in a private high school and offers private art lessons and small group classes. Julie lives in Lawrence, Kansas with her husband and children.
Artist's Statement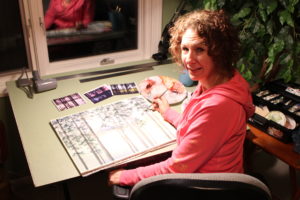 I am fascinated with God's creation, and I delight in being able to take what I see and reproduce it into a work of art. It brings me great satisfaction when I create something that others enjoy. I realize that the ability to paint and create art is a blessing from the Lord, and I am so very thankful to Him and desire to give Him glory through my artwork. For most of my paintings I start with a good photograph and spend time studying the subject, working up a pleasing composition, and drawing the basic outline before beginning the painting process. I try to pay close attention to lighting and shadows, using contrasting colors and values to create the right atmosphere and depth. Detail, texture and pattern are important to me as I work to complete each painting. Watercolor has been my paint of choice for so many years, and this versatile, transparent media continues to intrigue me. However, I have recently begun to paint with acrylic, and I appreciate how this opaque paint gives me certain options that are unavailable in watercolor. I also enjoy incorporating digital art into some of my creations. Discovering new techniques & media is important to me, so that I can choose the best process for each project.
Events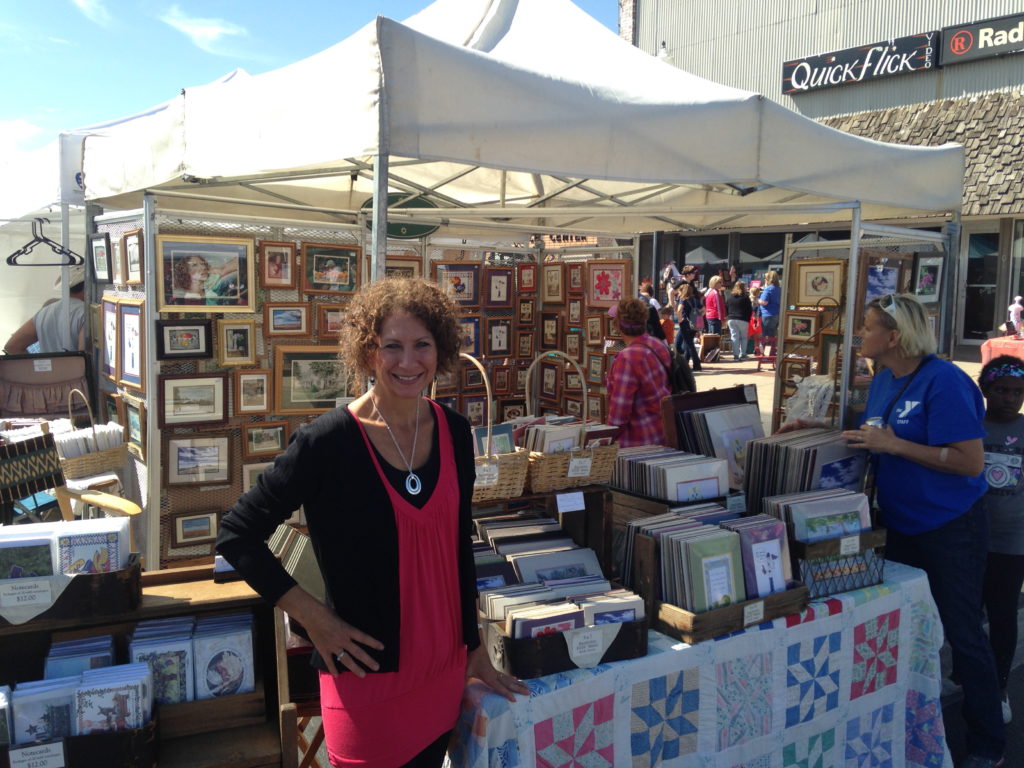 See Julie's artwork at one of these events:
Starting November 24 through the month of February
Art Display at Z's Divine Espresso Gallery
10 East 9th Street, Lawrence, KS
Sunday, May 6, 2018
Lawrence Art in the Park
South Park, 13th & Massachusetts, Lawrence, KS
10:00 a.m.-5:00 p.m.
Saturday, September 15, 2018
Hillsboro Arts & Crafts Fair
Main & Grand, Hillsboro, KS
9:00 a.m.-4:00 p.m.
Friday & Saturday, October 5-6, 2018
Pumpkin Patch
Cico Park, 1726 Avery Ave., Wreath Hall, Booth #W11, Manhattan, KS
Friday 9:00 a.m.- 7:00 p.m., Saturday 9:00 a.m.-4:00 p.m.
Please contact us for more information on any of these events.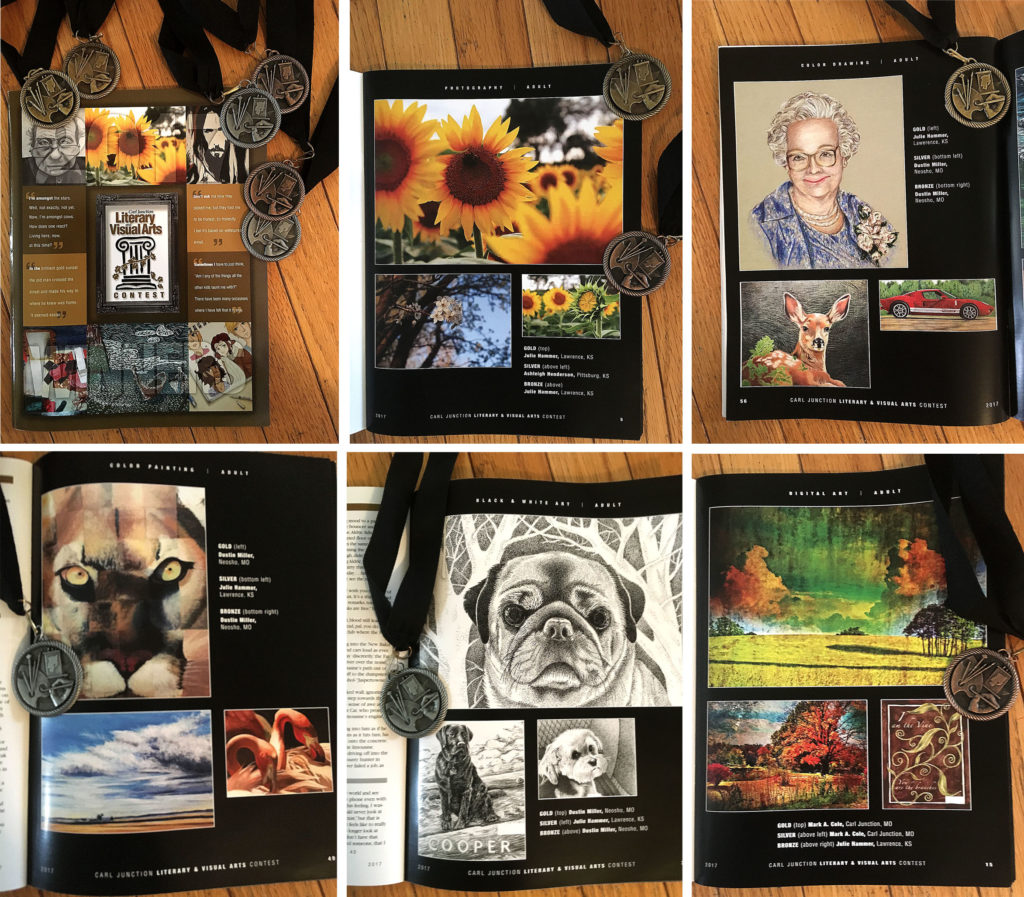 Awards
2017 Carl Junction Literary and Visual Arts Contest
The following art pieces by Julie won medals and were published in the Carl Junction Visual Arts Contest's annual publication:
Photography – Gold Medal – Sunflower with Bee
Photography – Silver Medal – Sunflower Bud
Color Drawing – Gold Medal – Irene
Color Painting – Silver Medal – Summer Sky
Black & White Drawing – Silver Medal – Cooper
Digital Artwork – Bronze Medal – I am the Vine